Juniors -  11 Young - 8

Happy Platinum Jubilee!
We celebrated the only way we know how - by writing!
Our Junior Writers started by working in groups to create acrostic poems for the words Queen, Elizabeth, Platinum, and Jubilee. Each line had to start with a letter of the word and be about that word, so corgi's featured quite a bit.
What do fajitas, strawberries, Oreo cookie ice-cream, pancakes,  kidney beans and rice, pizza, tea, fish and chips, Victoria sponge, cheesecake and trifle have in common? They're all they things you could eat at our street party. Of course the queen was also invited to our party, as was a ghost and his dead husband. Who would you invite and what would you bring?
For each of the foods we picked, we wrote a poem describing all the flavours, textures and smells. Although these poems had to be short enough to fit on a paper plate, they had to make us hungry. See if they make you hungry by checking out the pictures below.
The Young Writers each used 15 questions to build a poem about the queen coming to an iconic place in Southampton. Landmarks included IKEA, tenpin bowling, Sea City museum, the Marlands, Sprinkles, the library and Mayflower Theatre. Have you ever seen the queen in an improbable place? How did you react?
The Orwell prize is a competition which takes works in any form with the theme of climate crisis with this years title being 'Coming Up For Air'. Part of the jubilee celebrations include planting trees. After listening to If I Could Rule The World by Tony Bennett and If I Ruled The World by Was ft. Lauryn Hill we thought about what we might change if we were in charge and put them into poems and speeches.
Top of our agendas were fast fashion, plastic straws, over fishing, taxing companies emitting CO2 by the amount they emit, plastic packaging, closing factories for a week a month.
We rounded out the session by combining the two previous poems, if I ruled the world, followed by questions. This could take a serious bent or be more humorous, however it was nearly unanimous that no one wanted to rule the world, either because it would be boring or because of the things that could go wrong. That having been said, Winston Churchill and Florence Nightingale both held important meetings in their bedrooms, which appealed to everyone and Napoleon gave land to his family, which was also an idea we'd all landed on for how to manage the whole world.
I leave you now with some fun royal facts from the Junior Writers - which I have in no way fact checked.
1. The queen has 30 corgis - that's a lot of dogs to walk.
2. If you make the queen's guards laugh they can shoot you.
3. The queen has to wear her crown at the beach.


Orwell Prize Information:
Deadline: 10 June
Maximum Word Count: 1000
More information and to enter: https://www.orwellfoundation.com/the-orwell-youth-prize/abouttheyouthprize/enter-the-orwell-youth-prize/

Elizabeth Acrostic by Ariya, Chloe and Eva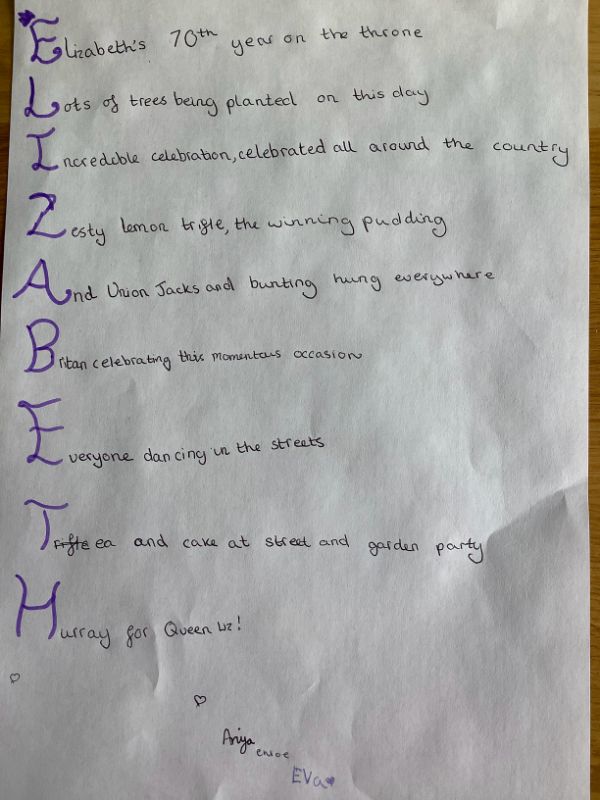 Platinum Acrostic by Anaya, Yusif and Rafsan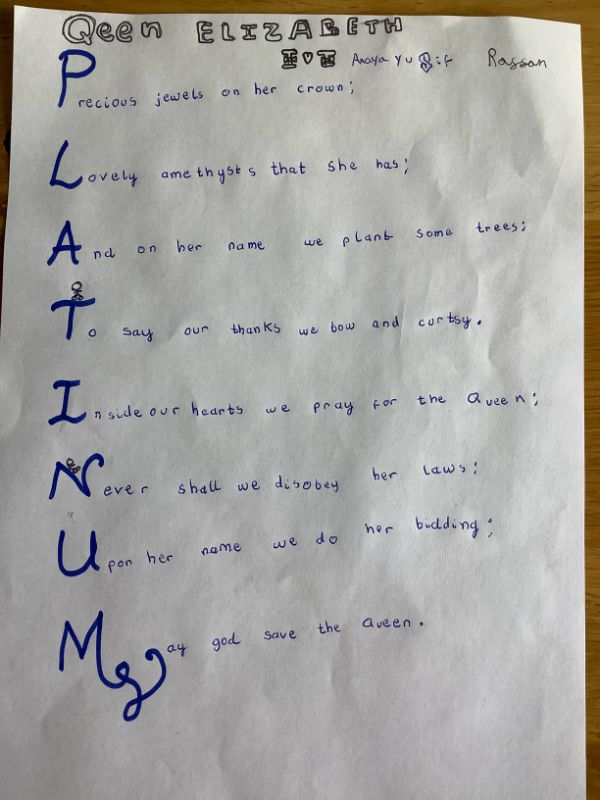 Jubilee Acrostic by Salsabeel, Jessica and Arsh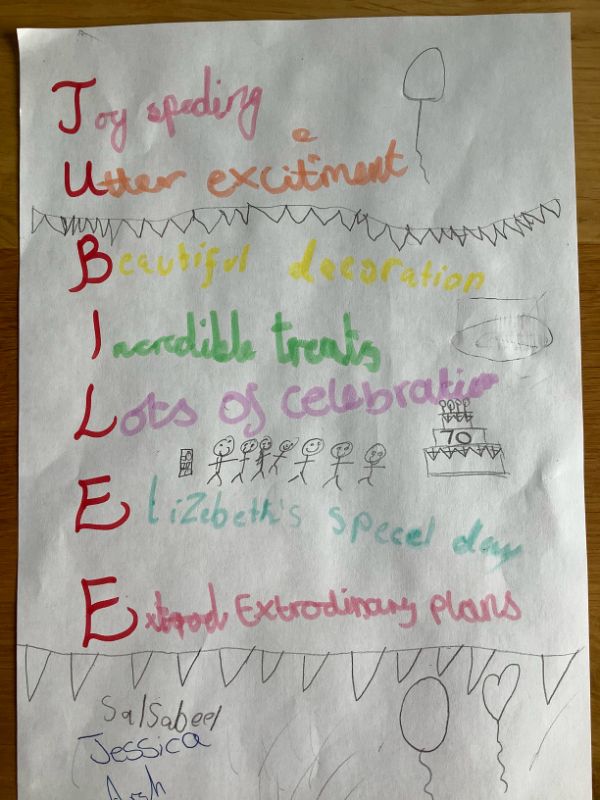 Queen Acrostic by Rumaysa and Rebecca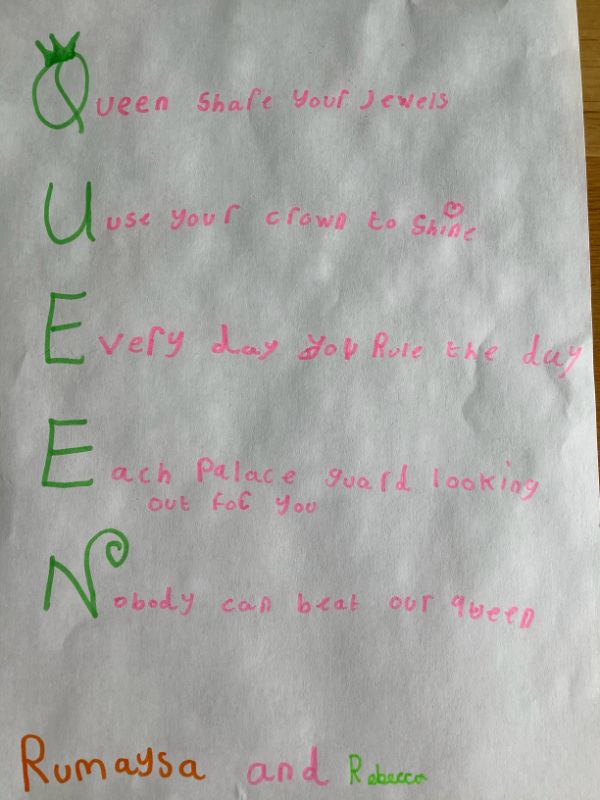 L to R Top: Samosas by Ariya, Cookies by Rebecca, Three Tiered Jubilee Cake by Chloe; Bottom: Ice Cream King by Yusif, Strawberries by Eva, Pizza by Arsh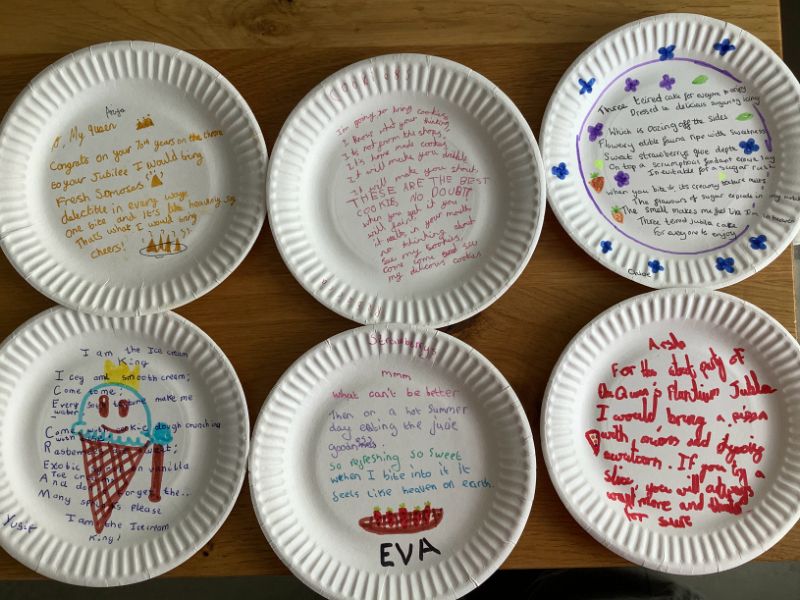 L to R Top: Fish and Chips by Rafsan, Fajitas by Rumaysa, Cookies by Salsabeel; Bottom: Ice Cream by Anaya, Yummy Desserts by Jessica