Number – 11
The theme to the term is travelling around the world exploring different influential writers. Where better to start our travels than at home with the familiar William Shakespeare?
Having written 38 plays, 154 sonnets, 4 long form poems, and at least another two plays lost to time, he's a writer still studied in schools today. Covering tragedy, comedy and history, there seems to be something in his plays for everyone with themes that hold true today which give them their long-lasting popularity.
For my part, I'm a fan of the comedies, my favourite being A Midsummer Night's Dream though I get swept up in whatever has been the best production recently seen when it comes to my second My current recommendation is David Tennant in Much Ado About Nothing.

The play within a play that concludes A Midsummer Night's Dream – the tragic tale of Pyramus and Thisbe – is one of many examples of Shakespeares love of the Greek poet Ovid. There are aspects throughout his plays which show he must have been taught latin and greek and this education level forms the basis of some of the arguments surrounding Shakespeares identity. As was pointed out when we were sharing facts, Shakespeare might have been a woman. People who don't believe that William Shakespeare, third child and first son of a glove maker and farmers daughter in Stratford, is the author of all those plays are called Anti-Stratfordians or Anti-Shakespearians. There are lots of reasons why Shakespeare's true identity could be a mystery, but equally there are documents signed by Shakespeare himself, spelled in a variety of ways and his contemporaries seem to have accepted him as the author.
Whatever you believe, the genius of his work speaks for itself. Shakespeare is well known for his word play and the creation of many words and phrases still in use today. Some of the ones we thought of in session were wild goose chase, green eyed jealousy, fight fire with fire, agree to disagree, off with his head, forever and a day, and knock knock who's there. Of course, these are taken out of context of the plays. Knock, knock who's there doesn't have much of a punchline in Macbeth when it's all about murder and treason.
These words and sayings, no matter the context, did give us a basis for creating the character of Shakespeare as we interviewed him on our chat shows. Whether we travelled back in time, pulled Shakespeare from the past or raised him from the dead (or for the conspiracy theorists out there, Shakespeare's wife was called Anne Hathaway; actress Anne Hathaway's husband looks like Shakespeare's portrait. Could they be immortals? Pictures speak a thousand words) it was our chance to get into Shakespeare's head as we put him in the spotlight.

To wrap up the session, as an on the spot suggestion from Eleanor, we watched Horrible Histories The Quill Song. Another suggested watch for you all is the Who Was Show on Netflix, suggested by Ruhaan. For me, I always suggest knowing the vague outline of a play and finding a good stage recording. See you next week as we jet off on our next stop around the world.

Eleanor's family orientated Shakespeare interview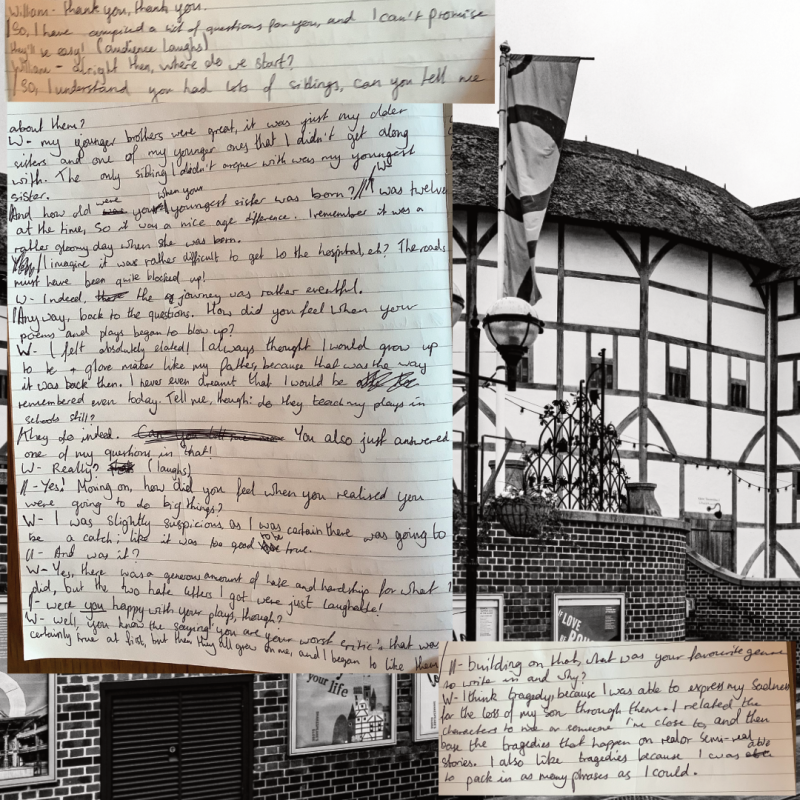 Gene's rhyming interview about plagues and phrases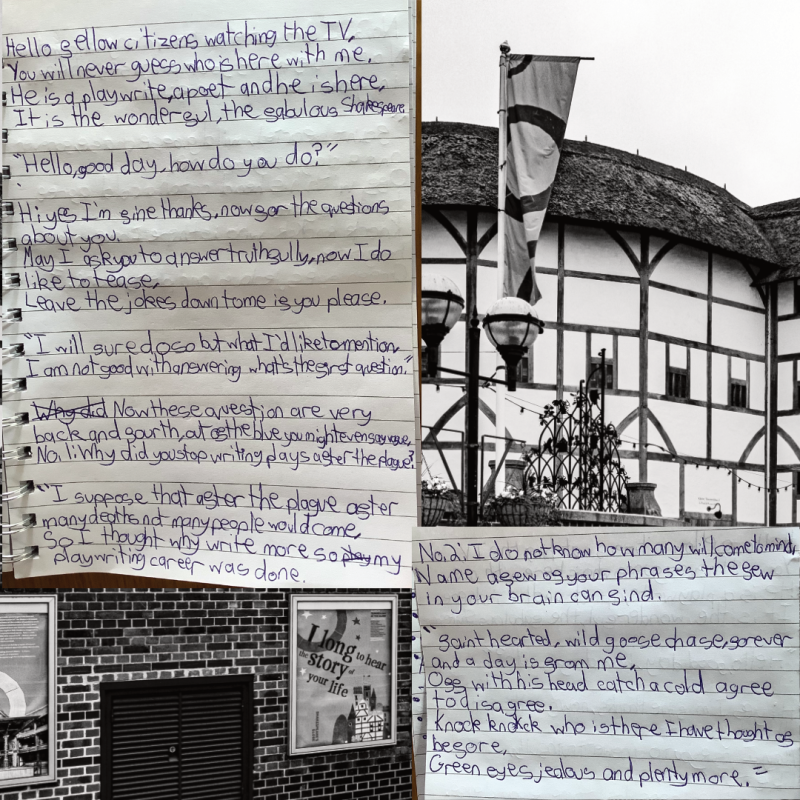 Katie B's interview about the plague and creating words, underlining the words attributed to Shakespeare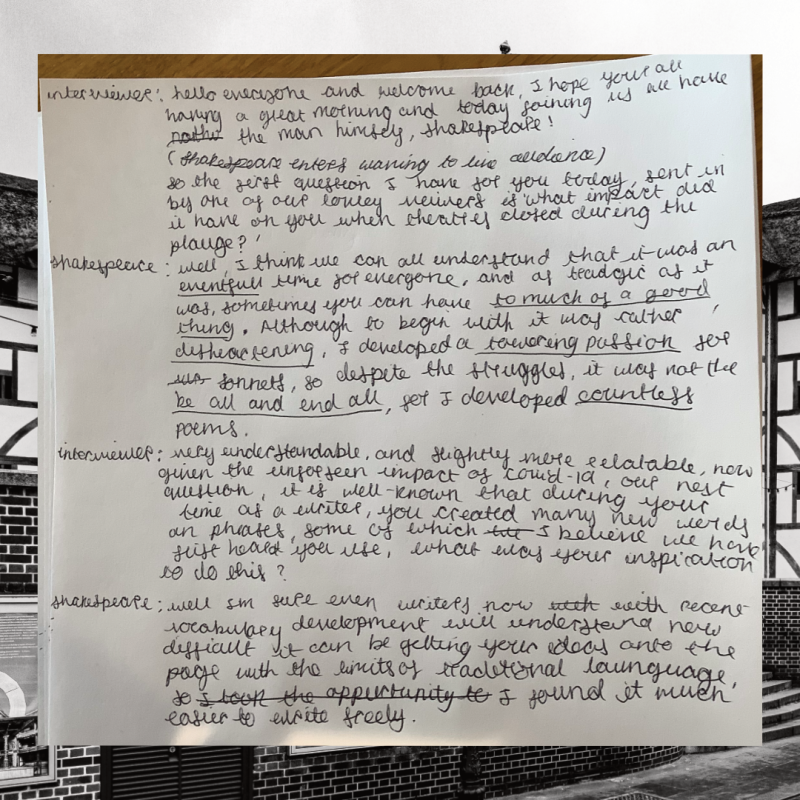 Rowan's letter exchange with a raised from the dead Shakespeare