For this week's session we jumped in by going around the group and saying our most ideal and most unideal ways of being woken up. Ideal ways proposed by the group ranged from: Being woken by someone applying more sunscreen, "the smell of avocado toast," being "really aware that someone I know and trust is going about their day," "woken up by someone I love with a bagel, in the carribean," and being woken up by "touching." Some unideal ways of being woken up included: Being "woken up to an unplanned house party" (which apparently happened to one poor writer this week!) "the sound of sirens," "the alarm goes off and the devil telling me it's the weekend," and being "woken up by neighbours cupboards." We wish for nothing, but the most gentle of wake up calls for our writers going forward!

In our exercise for today we looked at Selima Hill's poem 'Thickly-frozen Lakes' from her collection Jutland. Antosh first tasked our writers to write down each line of 'Thickly-frozen Lakes' as he read them out, to get a real sense of analysing the short four line poem and absorbing it by copying it out. Then writers discussed in pairs what they thought about the poem.
Thickly-frozen Lakes
Like blocks of ice on thickly frozen lakes
creaking as they readjust themselves,
my father can be heard behind the door
adjusting to my presence in the bathroom.
When it came time for group discussion there were ruminations on the father, that the juxtaposition with the image of the ice suggests that the father is "cold." One writer pointed out that since the father had to "readjust" to her presence it suggested that the father was no longer used to having her in his space. The group discussed that there was a sense of the father as "solid like a rock" a firm presence in his frozeness. They discussed how the creaking not only gives an impression of the father, but also evokes the sounds of a house settling. 
The next task was to freewrite using 'Thickly-frozen Lakes' as a prompt, and as Selima does start on an image then connect that image to something else breaking the freewrite into image and subject. In checking in after the freewrite our writers talked about the challenge of tying image and subject together "What does this mean? How do I connect it?" and some found "doing it backwards" starting with subject then finding an image was another way into the exercise. Space was also opened up for writers to share their freewrite, if they wanted, and we had a very touching reading from Harley this week. I'm really looking forward to hearing more from our writers as we go forward.    
The group discussed editing their pieces from the first week and how "abandoning stuff is also editing," as one writer had moved on from the piece she constructed last week, but used it as the fuel and a springboard to begin something new entirely. We had ruminations on editing to the frustration of "why can't I touch this?" when it comes to a freshly written piece to what it feels like to go back and edit something old, the balance between maintaining a narrative and staying true to what was originally written whilst adding in new parts. 
We wrapped up at the Mayflower for the day, but the session wasn't over yet as the Mayflower Creative Writers group was going on a field trip! We headed over to a 'Later at the Library' talk at Southampton Central Library from Pete the Temp (aka Pete Bearder) taking us on a journey through 300,000 years of the oral tradition (give or take!) From town criers, to freestyle rappers, from the bards of old, to the Harlem Renaissance, we learned the power of, as Pete puts it, being "a little bit gobby." Here's us looking forward to hearing some more gobbyness from our writers in the future!          
Our writers writing!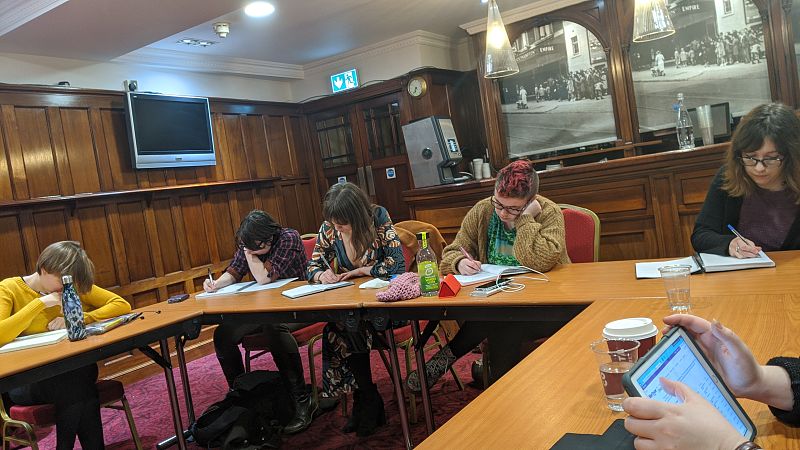 Antosh showing off our reading for next week: Miranda July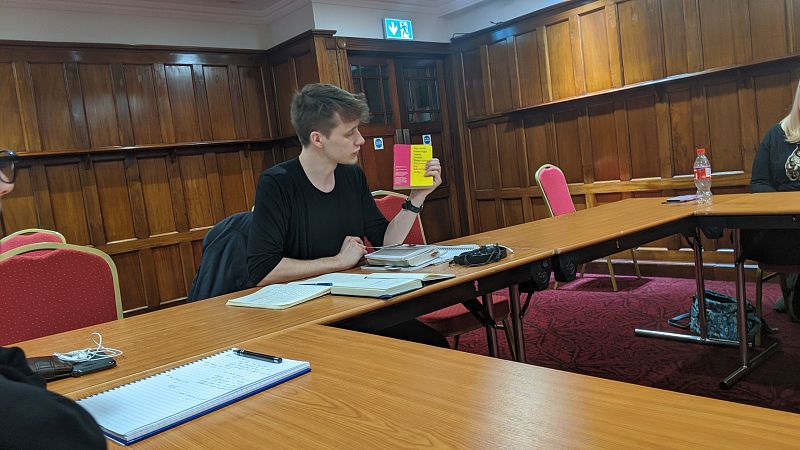 Homer to Hip-Hop.