Junior Writers Number - 9
Young Writers Number - 10

It's an eventful week in the world. Up in Scotland, Cop26 is going on and just last night was Bonfire Night.
Junior Writers looked to the skies with their firework poems. But before we jumped in, a few presentations. Over half-term our writers made posters about their favourite famous people.
Arsh told us all about artist David Hockney. Annelise's favourite author, David Walliams, was a hit. Susmita has met Jennifer's pick of DanTDM, and she also had a story about an Ed Sheeran look-alike, who was also a popular choice by Chloe. And finally, Rowan went classic with JRR Tolkien.
After fearing to wonder what was now considered 'old music', we explored the senses of Firework night (and associated firework events).
What could we see? Colours, sparkles, shining, beautiful light.
What could we hear? Bang, kaboom, explosions, crash, kapok, sizzle, people in the stadium oohing and ahhing. There were a lot more noises which I cannot accurately transcribe but all fall under the umbrella of onomatopoeia.

What could we smell? Smoke, chemicals, sulphur, pizza.
Can we taste anything? Pizza, fire, roasted marshmallows, smoked in the air, Diwali sweets.
What could we feel? Burning, smokey air, cold, hot, grass/ground beneath our feet, items of clothing. Emotionally we also feel happy and excited.
Using this idea generation and the inspiration of Rockets by Mike Jubb we created our own poems. Through the use of adjectives and onomatopoeia everyone made fireworks feel like they were in the room - albeit quieter and with less litter.
Speaking of litter, in Young Writers we watched a video about cleaning up the Pacific Garbage Patch.
There are lots of people trying to solve the climate crisis - such as Marino Morikawa - because it's something that concerns a lot of us. In our own way, we're all doing something, whether that be litter picking at school, making sure to use all the paper in our notebooks, not turning the lights on in Geography class, it all adds up. Greta Thunberg and David Attenborough have both made speeches on the Climate Crisis, two generations sharing a goal.
Greta's speech was personal, but also had statistics. It used her age as a guilt trip and was directly addressed to the audience of politicians.
David Attenborough's speech held a different kind of gravitas because of his name and his life experience. The production value was higher as he presented on a background of sad images and videos, interspersed with interviews which gave a wider experience.

The symbolism of needing Greta Thunberg, the contrast between young and old, that David Attenborough hasn't seen the change in his lifetime - was not lost on our writers.
We all have something to say on the Climate Crisis, and this was our chance to do it. Our speeches used direct address to share our point of view and next week we'll record some and share them with Cop26 because like Greta Thunberg, it is our voice that needs to be heard.
To wrap up we wrote a shorter poem based on Letter to Noah's Wife by Maya C. Popa in which we were wrote from the perspective of a marine animal or the plastic in the Pacific Garbage Patch talking to someone else.
This week we're excited to go to see Fantastically Great Women Who Changed The World - which has been our theme for the term. (And as a little secret, I wrote this blog retrospectively enough that I can say it really was fantastic, but I'll let our writers tell you more later).
Next week, our Junior Writers will be meeting at the Art Gallery - so don't forget, and we look forward to sharing our Cop26 speeches.

Naomi's 'From A Porpoise'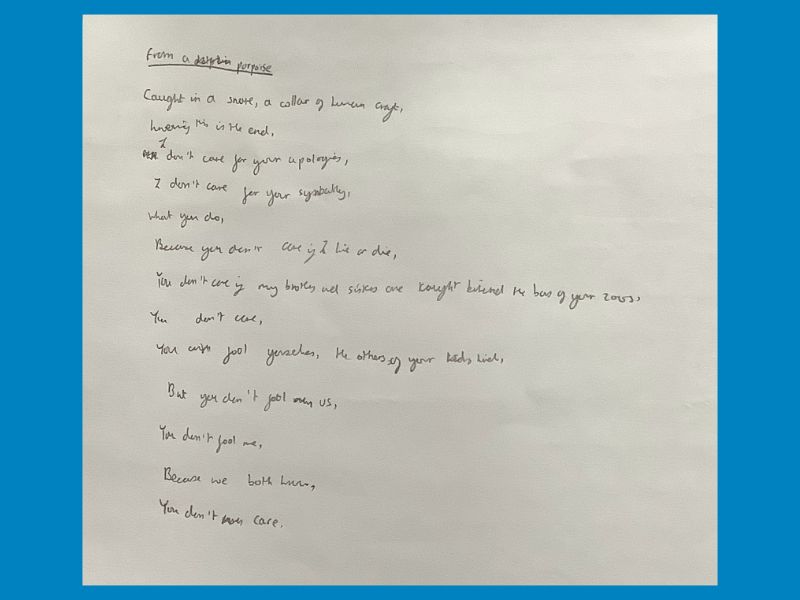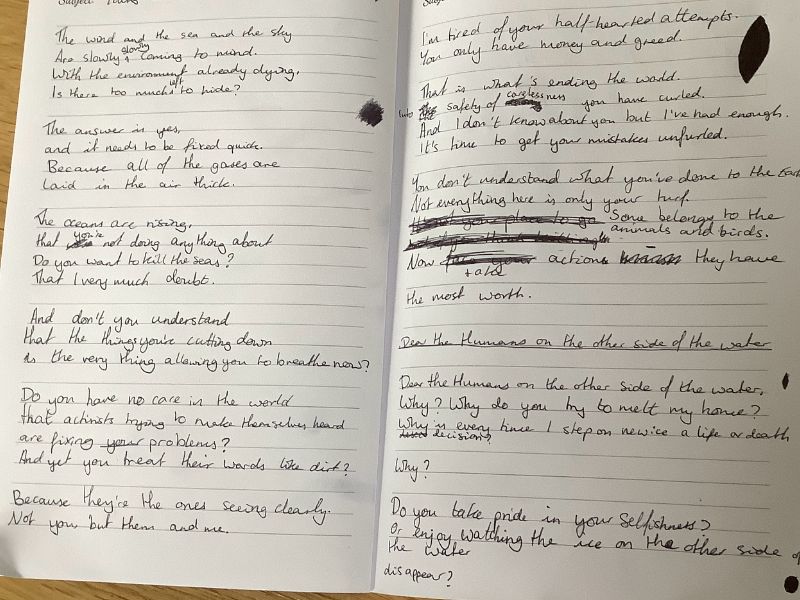 Amelia N's Climate Speech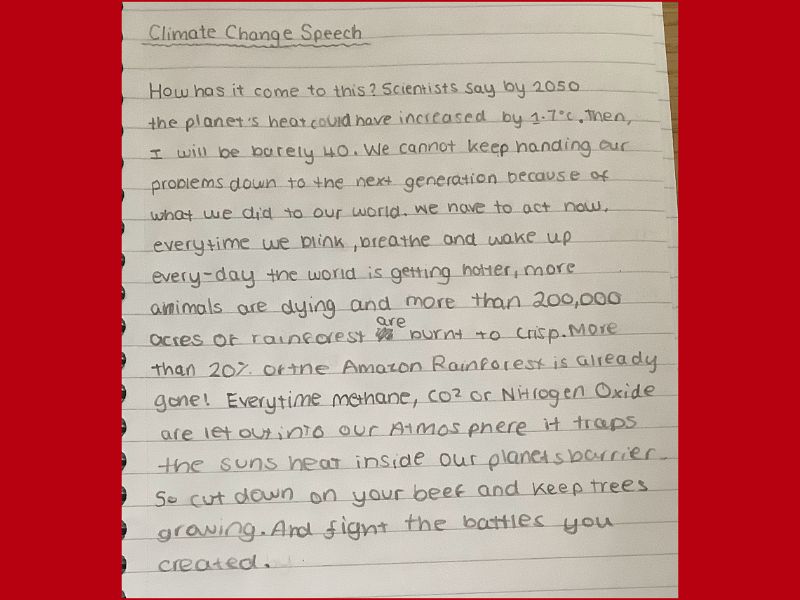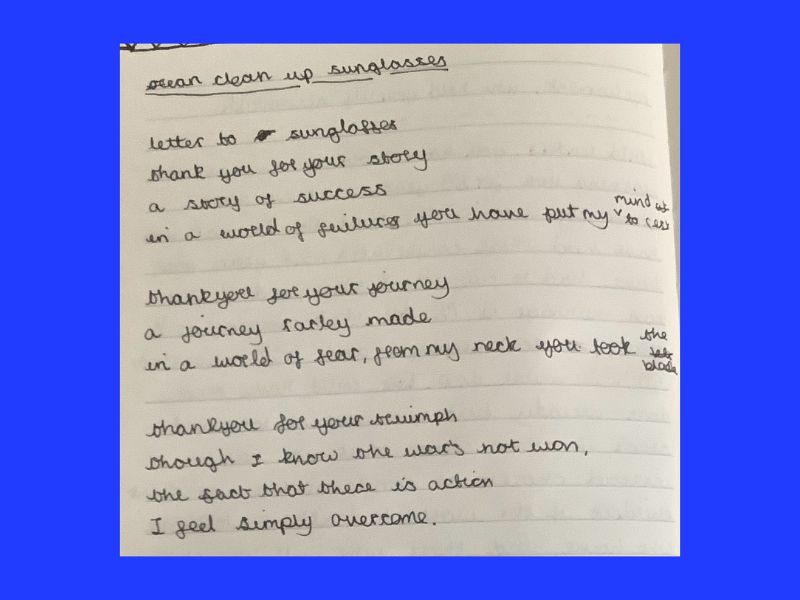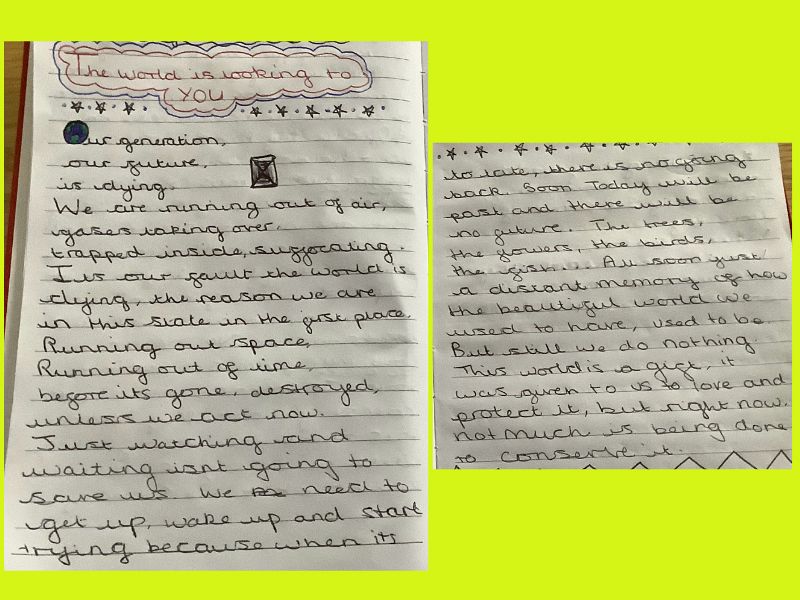 Ella's Climate poem