Junior Writers - 8
Young Writers - 10

It's the last session of 2021 - where has the time gone?! We're in the holiday spirit and we're also celebrating the Junior Writers completing the Discover Award.
I don't want to say that the most exciting thing to happen this term was biscuits but by the faces of the Junior Writers, you could be mistaken for thinking so. When asked about memorable moments what actually stood out for them was our visit to the gallery and creating firework poems.
Have a look at all the images of our writers receiving their awards which they've worked hard for all term. If you know one of them, ask them about what they did, they'd love to share and they've taken home their portfolio. There are also pictures of them sharing their favourite piece of writing and if there's still space left in their booklets, why don't you print those images out and stick them in.
We rounded out our Junior Writers term with another 'I Went To The Shops' game - it was time to find out ultimate memory champion.
Try and remember this list yourself - can you beat Rowan?
Dog, projector, biscuit, cat, piece of paper, fan, chopsticks, Eiffel Tower, table, chocolate, BTS, water bottle, pen, Buttons, map of the Moon, Sun, dynamite, star, tree, Santa, eyeballs, bauble, Leaning Tower of Pisa.
With the Young Writers, we were also in the frustrating games party spirit as we kicked off with Just A Minute, the Radio 4 challenge. Each person is given a topic to talk on for a minute with no hesitations or repetitions. Our first round, only Damilola timed out whilst talking on her best experience of heights. By round two we were a little more switched on and had three people hit the minute mark; Susmita on the topic of plants, Amelia N on favourite Halloween costume, and Rahmat on weird stuff to put on a Christmas list.

Susmita has given us the advice to listen to the Radio 4 program because the ways people get around repetition are truly creative, especially as they're even stricter than us. If we try this again maybe we'll have more people his the minute mark (personally, I'd like to get to half a minute, which says a lot about how well I did).
Next followed a more traditional party game, charades.
We acted out book titles from The Handmaid's Tale to Harry Potter, Northern Lights to The Gruffalo. Some were more do-able than others. Some felt like they should have been do-able (I thought as I stared into space, probably looking a little like I'd lost my mind as I tried to act out Matilda). Others were impossible (if anyone can think of how to portray The Duchess, let us know because we were stumped). We rounded the game up with 'a good book' - Peppa Big Goes To School.
Then at Amelia's suggestion to fill the dying minutes of the term, a minute speech on a set topic, a bit like our starting game just without the pressure. It's been a secondary theme of this term to talk and write about meaningful topics, often stemming from what fantastic women and people in general have done and how they influence us, so how fitting to end the term with a speech from Amelia on 'a person I would love to meet' - David Attenborough.

Hope you have a great Christmas and a happy new year. See you in 2022.

Amaira recieving her Discover Art's Award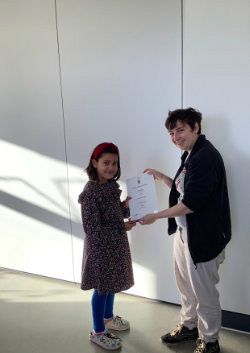 Eva sharing her favourite Art's Award moment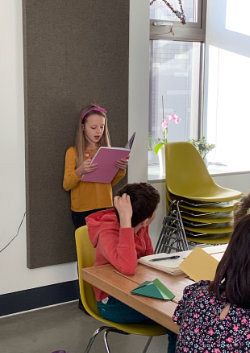 Jennifer recieving her Discover Art's Award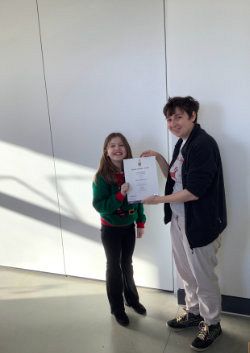 Jennifer sharing her favourite Art's Award moment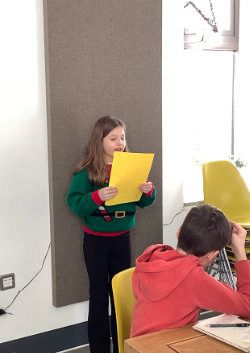 Leo recieving his Discover Art's Award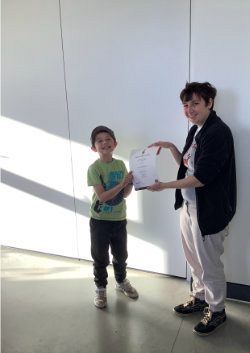 Leo sharing his favourite Art's Award moment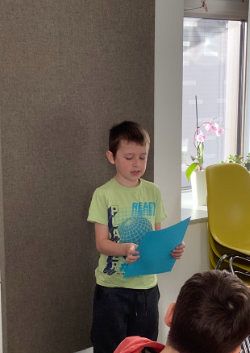 Rowan recieving his Discover Art's Award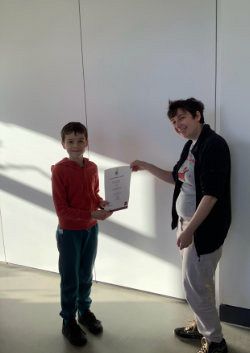 Rowan sharing his favourite Art's Award moment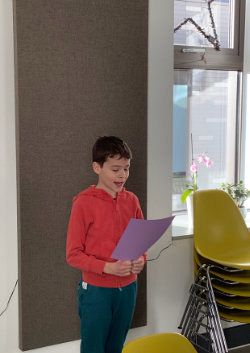 Yusif recieving his Discover Art's Award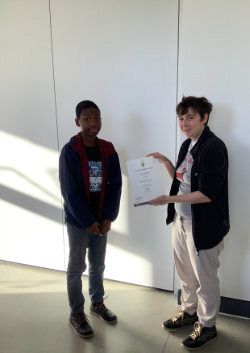 Yusif sharing his favourite Art's Award moment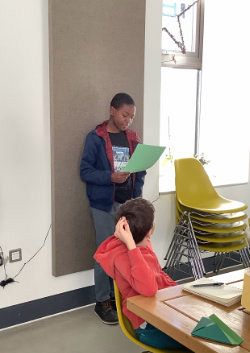 Amaira sharing her favourite Art's Award moment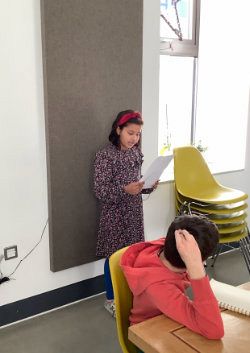 Annelise recieving her Discover Art's Award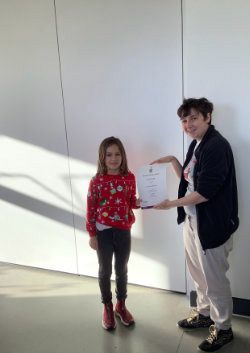 Annelise sharing her favourite Art's Award moment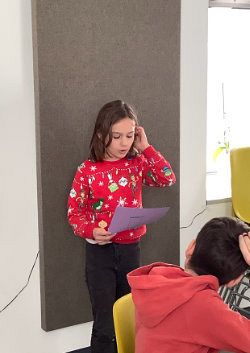 Arsh sharing his favourite Art's Award moment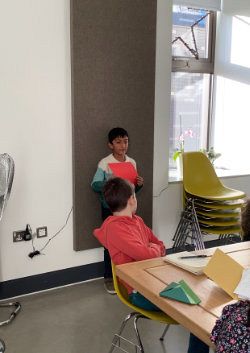 Arsh recieving his Discover Art's Award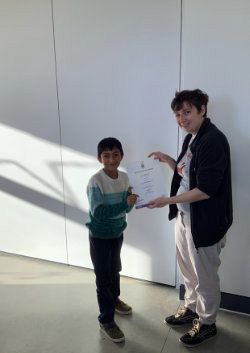 Chloe recieving her Discover Art's Award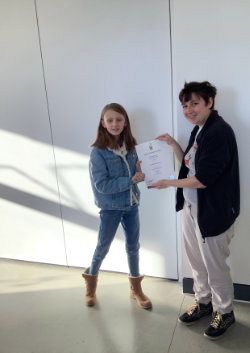 Chloe sharing her favourite Art's Award moment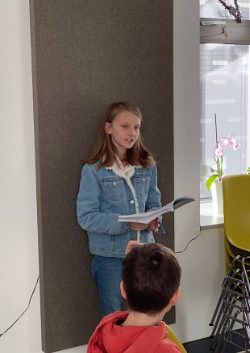 Eva recieving her Discover Art's Award