Group 1 – 15  Group 2 – 3

It was World Book Day this week and what better way to celebrate than to come all dressed up. In attendance was Willy Wonka, the Wardrobe from The Lion, The Witch, and The Wardrobe, Hazel from A Fault in Our Stars, a Gryffindor student, Hiccup Horrendous Haddock the Third, and the Secret Garden. When asked there was also the on-the-spot costumes of 'my autobiography' and 'I'm wearing a pinafore so Dorothy?'
The main ideas behind World Book Day are #shareabook and Get involved in the Conversation so we started by finding out what everyone is reading.
Kamile: The Spoonful of Murder from The Murder Most Unladylike series by Robin Stevens
Eleanor: The Map of Days, fourth in the Miss Peregrine's Home for Peculiar Children series by Ransom Riggs
Ella: Mad, Bad and Dangerous to Know by Samira Ahmed
Katie: One of Us is Lying by Karen M. McManus
Gene: Charlie and the Chocolate Factory by Roald Dahl
Conrad: The DaVinci Code by Dan Brown ('I shouldn't spoil the point I'm at')
Neelesh: Harry Potter and the Cursed Child  by J.K. Rowling, Jack Thorne, and John Tiffany ('Then something happens but they don't die')
Kiki: We Were Liars by E. Lockhart ('Her family own an island and did something terrible but I don't want to spoil')
Amelia: The Song of Achilles by Madeline Miller ('Horrible ending that completely breaks your soul but in a good way')
A World Without Princes, the second in the School for Good and Evil series by Soman Chainani
War Storm, the forth in the Red Queen series by Victoria Aveyard
Ian: The Thirteen Secrets by Michelle Harrison
Rowan: Return of the King by JRR Tolkien ('A guy who wants to take over the world then there are 2 people who can stop him who go into a volcano')
Max: Anything by Micheal Grant
Naomi: His Dark Materials by Philip Pullman
Shani: The Hunger Games by Suzanne Collins
Louise: A Swim in the Pond in the Rain by George Saunders
Katie: Now We Have your Attention - The New Politics of the People by Jack Shenker
The Body by Bill Bryson
Hannah: Jane Eyre by Charlotte Brontë
The Hobbit and Lord of the Rings by JRR Tolkien
Susmita: A Burning by Megha Majumdar
Beth: The Dream Thieves, second in The Raven Cycle by Maggie Stiefvater

Both groups thought about perspective this week. Group 1 did this through the 2011 Man Booker shortlisted, historical fiction book Jamrach's Menagerie by Carol Birch about an escaped tiger running loose in London in 1857. The young boy it swept up was unharmed and eventually the tiger was caught. It's a wild tale, more so because it's true. Imagine having that be your go-to party story. In fact, that's what we did, turning the story from the perspective of the rescuer to the point of view of the boy all grown up relating his tale. In contrast to what they would personally do, many of their characters decided to stroke the tiger. There was also an array of suspicion placed on the grandfathers telling what admittedly seems to be a tall tale, but it's so fantastical we can't help but want to believe in our hero even if the family members are increasingly long suffering.

In group 2 we discussed perspective, tense, and person. In over an hour of conversation the key take away was why?
There are pros and cons to every style available. People have their preferences, sometimes heatedly so - Philip Pullman for example is a staunch believer in third person. We ourselves as readers and writers have preferences and preconceptions. The group link first person narratives to the likes of John Green and coming of age plots, viewing third person as more mature. However Katie is more drawn to writing in first person, and when she was younger wrote in second.
The main character from something like Twilight seems an obvious choice. She's a teen girl in the supposedly enviable position of being vied over by a vampire and a werewolf in a book aimed at teenaged girls. When picking Jodi Picoult off the shelf of older female relatives, our teenage group weren't engaged. Audiences need a reason to stick with the main character throughout the book and reading about someone similar to you helps. Though as pointed out, fantasy and sci-fi seem to have a wider appeal, perhaps because real life doesn't exist. However as the publication of Midnight Sun and Edward's point of view shows, other characters have stories to tell too and they don't have to be the romantic lead. The Rest of Us Just Live Here by Patrick Ness is all about the ordinary non-choosen ones, proving alternative POVs can be enthralling.
Tense is another one of those aspects people just have a preference for, mainly being past tense as the entirety of our group proved. It's familiar and easier but once more upon inspection present tense has it's uses as well. Mainly its use for drawing the reader closer to the action, the immediacy and urgency of the narrative and can be used in conjunction with first or close third to create an unreliable narrator, the audience learning as they do. However as Hannah pointed out, do we need to stick in one tense? We can't throw all the rules out and slide about all over the place but in her current read, Jane Eyre, Brontë brings passages into present tense to add meaning to them.
The writing task combined all the things we thought about by getting participants to flip the tense, person and perspective of a scene in the book they're reading. How did it change things? Was the author right? The results were that second person was not going to be used again, animal perspectives create the challenge of how they experience the world, and Jane Austen uses character archetypes for all but her main characters making them the obvious choice even though the others do have interesting things that could be said.
There's much more that could be said on the subject of tenses, perspectives and persons but the main take away and one I hope will stick with us all is to ask yourself why as you sit down to write. Is this because the piece works better like this, or because it's my go-to comfort zone? Maybe you have to try a few different angles but keep asking - why?


Eleanor's tiger account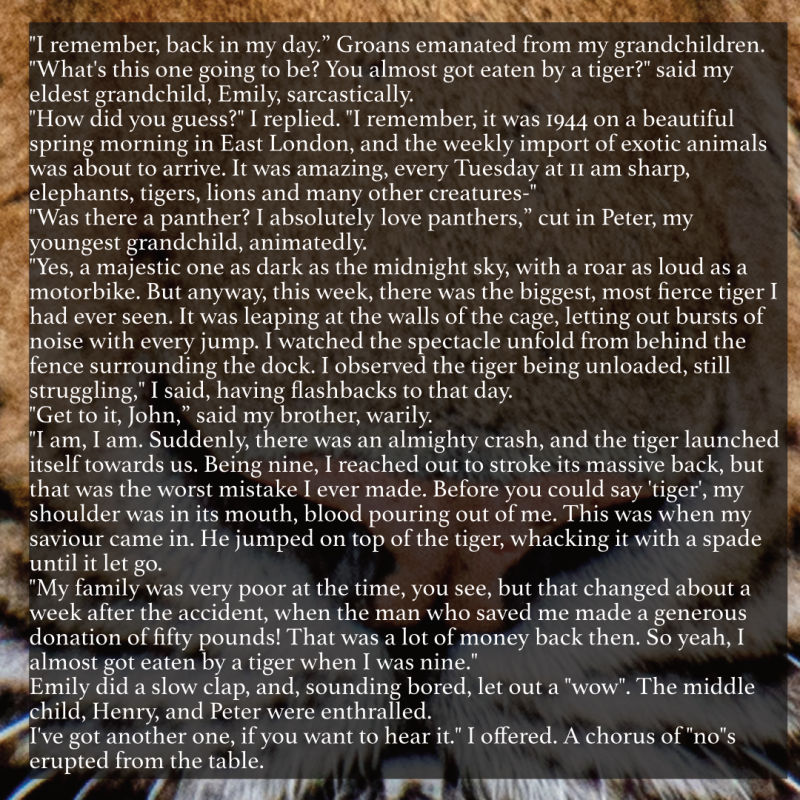 Gene's tiger story appreciation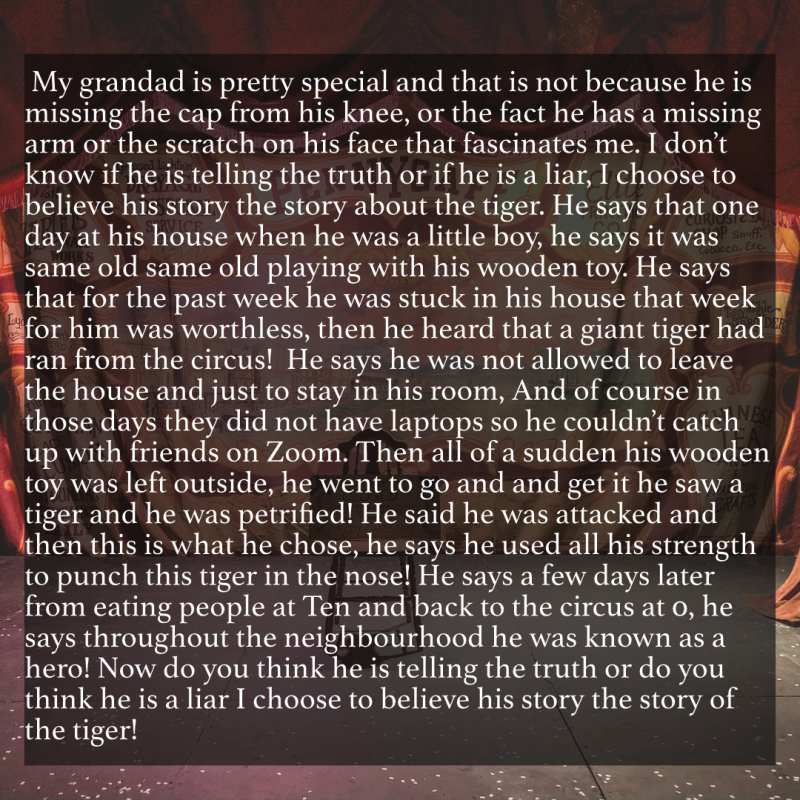 Kiki's script format between Grandpa and his family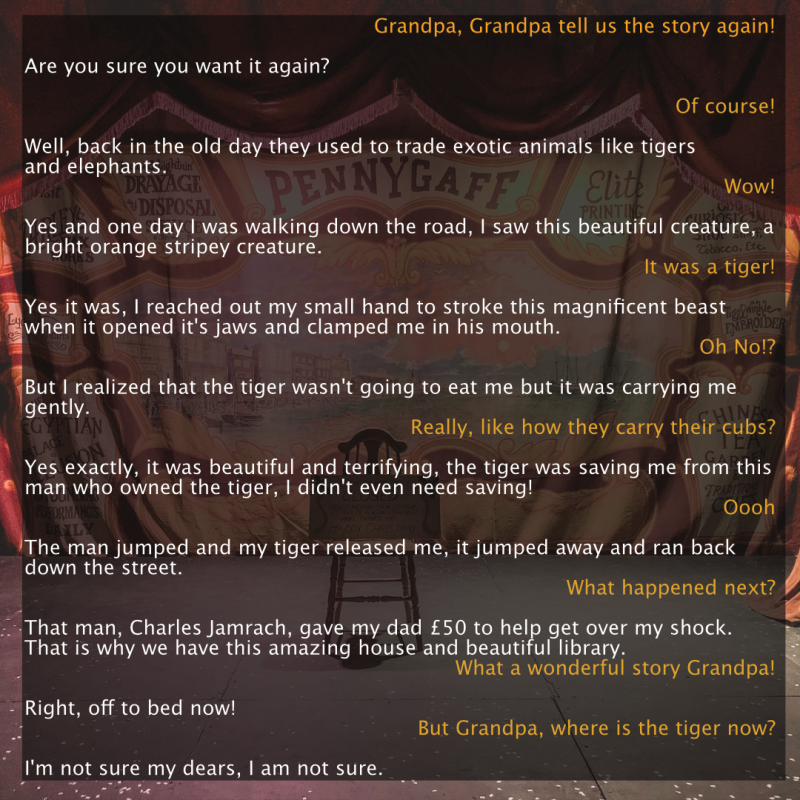 Libby's Christmas tiger story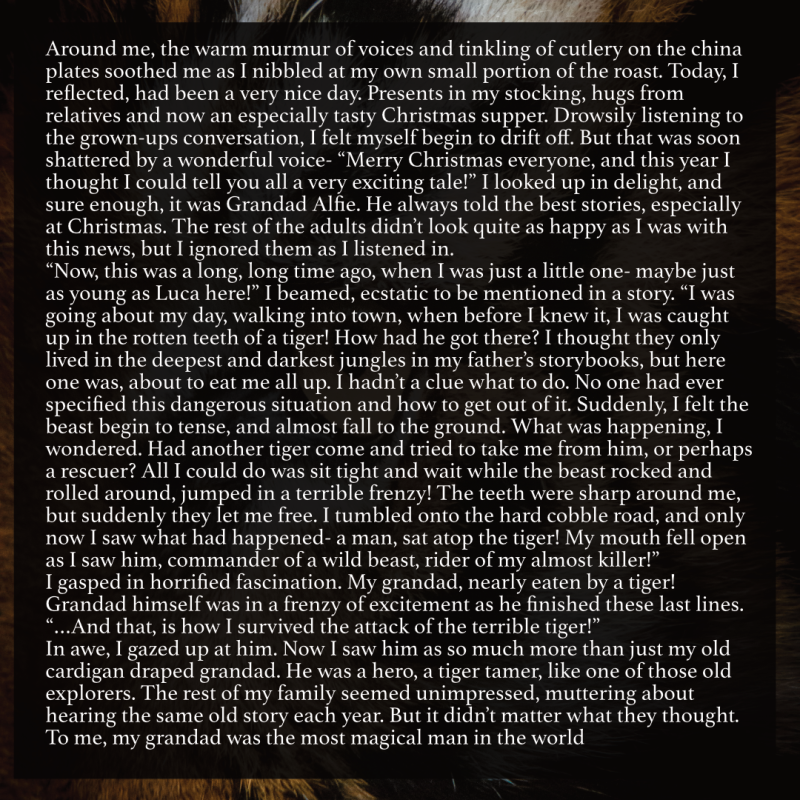 Max reminiscence of a tiger attack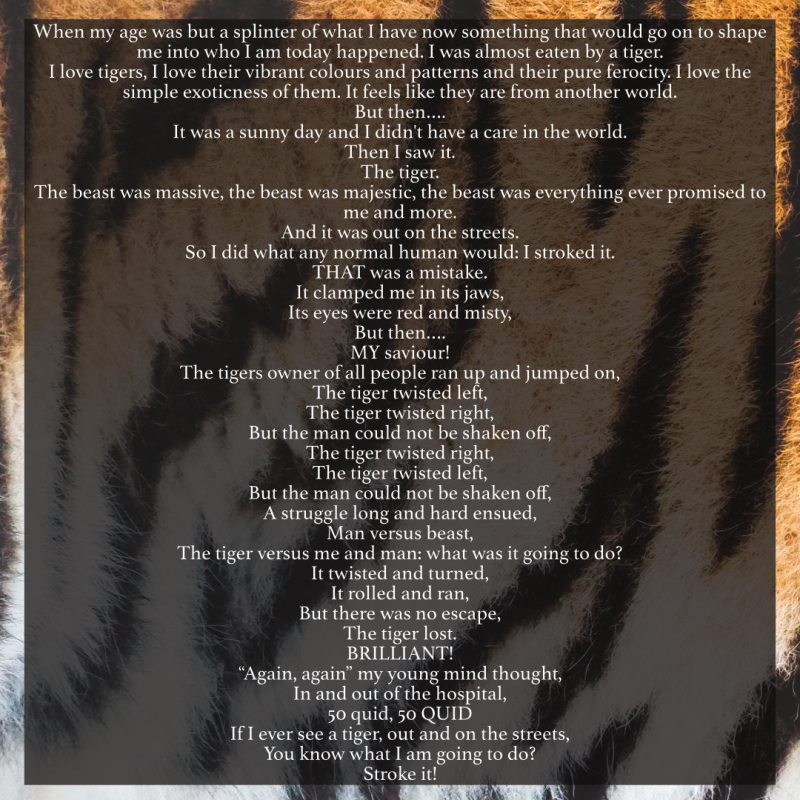 Rowan's interupted retelling