Junior Writers - 8
Young Writers - 9
Total writers - 22

What do you get when you throw the Junior Writers, the Young Writers and a dash of the online writers and friends together? You get Hands On Humanity!
For one day only we found ourselves over at the University of Southampton, taking part in their festival. Walking around I saw a lot of VR headsets and someone walked in and asked if we were the AI room - so intriguing and exciting things were afoot for anyone who decided to stay after our session to check out the rest of the event.

As for us, we were mixing our two themes together - inspiring women and selfies.
We split off into groups to focus on different activities, and as I was helping the Junior Writers that's predominantly what this blog will focus on (sometimes it's very limiting that we as humans only see the world in first person).
The Young Writers created a collaborative poem - pictured below - about yesterday and today, and wrote postcards. There was also a heated debate about the correct way to eat kitkats - whether or not to snap them into separate fingers before consuming or just to take a bite out of it with everything still attached together.
Both groups also wrote poems entitled 'Myself as…' something from nature.
The Junior Writers had a whole array of natural items - there were oceans and trees, dolphins and crocodiles.
These poems were written up on people cut-outs and decorated. There was some great artwork ranging from self-portraits inspired by the poem, through to abstract art. There was a troll from one of the Young Writers, which certainly is a creative approach to the nature theme, though the mossy green decoration really solidified the type of troll.
The session was rounded out with lunch, which was a popular affair. A big thank you to the university for that, and in general for hosting us and for the t-shirts. We hope to return again in future.

Collaborative Poem by the Young Writers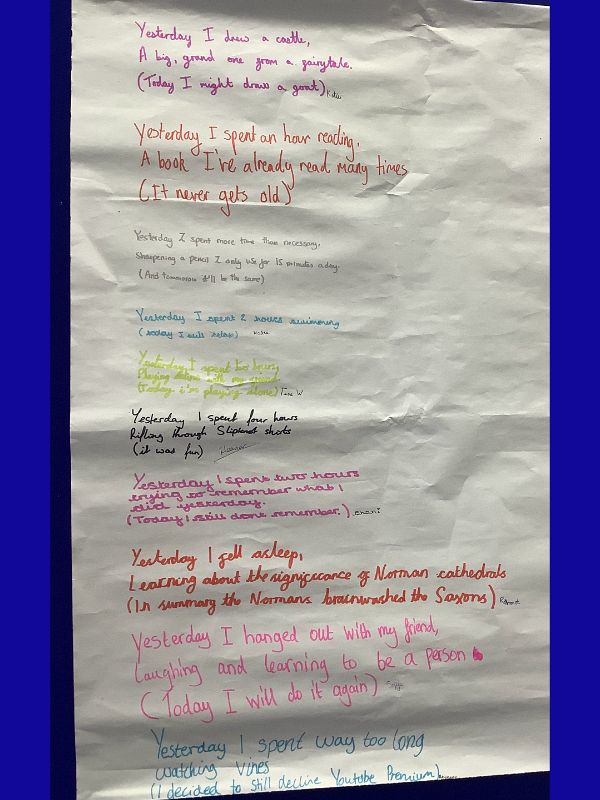 Myself As... (Natural thing) collection of people