Number – 11
The rain and wind have been blasting all week, turning everything to puddles. It's a sharp contrast to the sunny street which Theresa Lola walks along in her poem Flagship of Buzz.
Theresa Lola is a 27 year old British Nigerian poet based in London. In 2019/2020 she was the Young People's Poet Laureate for London and she was commissioned to write a poem about Regent Street.
As a spoken word artist her work uses devices like alliteration and sibilance to give flow to the piece and a sense of echoing and grandeur. It's not about how the words look on the page but about how they sound. This was our challenge for the week.
We have our own streets to imagine walking down. At MAST we're right off Southampton's main highstreet, a place which all of us have visited at one time or another. However, just because it's one location doesn't mean we all have the same view of it. Even focusing on a different time of year can change the ambience of a reflection, the Christmas period with the market and massive baubles hanging in John Lewis feeling very different to the height of summer. Don't even begin to start playing a game of favourites between dessert places. Sprinkles may come out on top for some but Five Guys milkshake trumps it all for others.
As we wrote our poems, helping each other with ideas for descriptions and emotions connected to our chosen locations, scenes of Southampton played in the background. Gene mentioned never having seen Southampton from a birds eye view before giving yet another interesting example of how we can not only individually view places differently but also in a physical sense.
Spoken word is meant to be performed and although we didn't throw our young writers in the deep end and make them perform on the spot we did give them some tips to go away and practice in the mirror with. These can all be seen in Shots Fired, a slam poem performed at Youth Speaks Brave New Voices Festival in America.
One of the tips that goes hand in hand with practice is memorising your work. Just like actors with a script, you don't want to be encumbered by looking at a piece of paper throughout. Also, if you know what you're saying you can put emotion into it, create the right flow, the volume, the pauses, work the beats that seek a reaction from the audience. Know what that reaction should be.
Spoken word is often physically in front of people so the use of visuals is important. What you do with your body matters. If you gesture, make sudden movements, move across the stage, all of this is part of the performance. And don't forget facial expression.
Then there's props. The key overlooked one is a microphone. There might not be one and if there isn't you definitely need to make sure you're projecting to be heard by everyone in the room. But even with a microphone you need to make yourself clear - unless that's an artistic choice. A microphone with a stand is a static central point of performance, but as Shots Fired shows, stepping away from the mic can create a powerful moment. If it's a hand held mic, is there a wire to contend with?
Microphones don't have to be the only prop. I've seen spoken word artists with hats or chairs, anything to build the performance. Even though Lola's Flagship of Buzz isn't spoken live it's entirely possible to have video in the background. As she says 'poetry is proving to be open to innovation, there are many poets who are pushing the boundaries of poetry, experimenting, combining it with different art forms, and also delivering poems in new ways'. It's really up to you and your imagination how you perform your poetry.

Of course you can never forget the audience when performing live, whether that be through leaving pauses for laughter, initiating a call and response, or just steeling your nerves for the stage. Now with the blessing of technology all this can be recorded and shared beyond a physical venue. So as we break for half term go forth and find videos online, practice in mirrors, perform because, looping back to the beginning of our journey, 'all the worlds a stage'.

A view of John Lewis and West Quay by Ella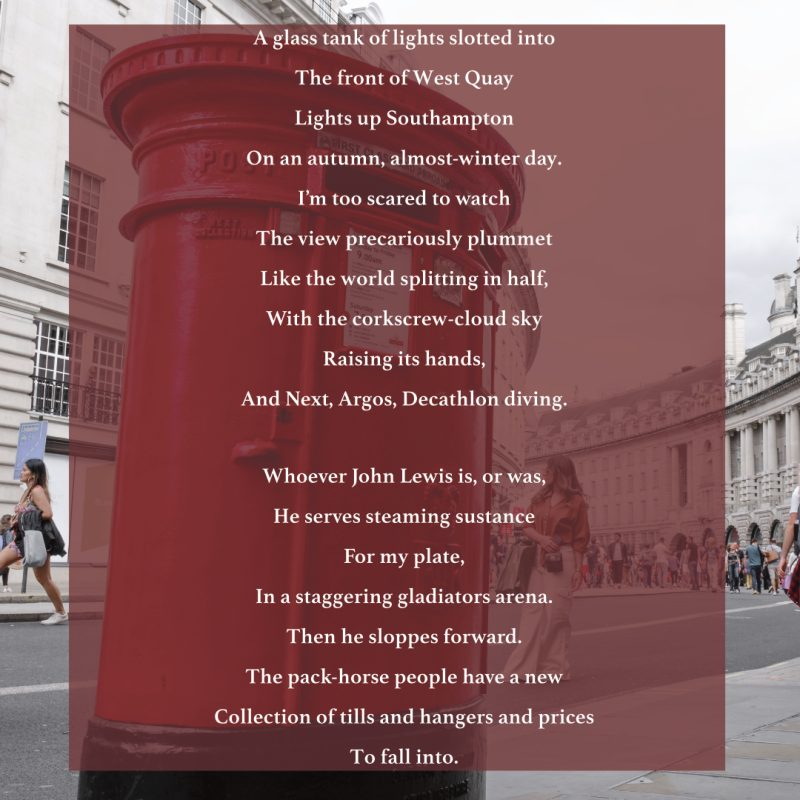 First impressions of Southampton by Gene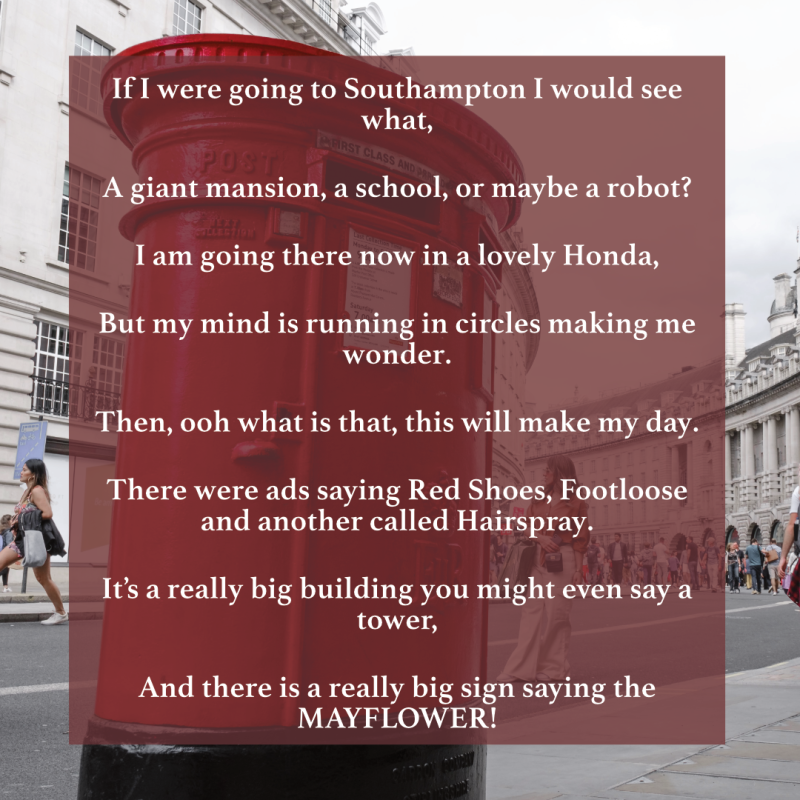 Christmas in Southampton by Rowan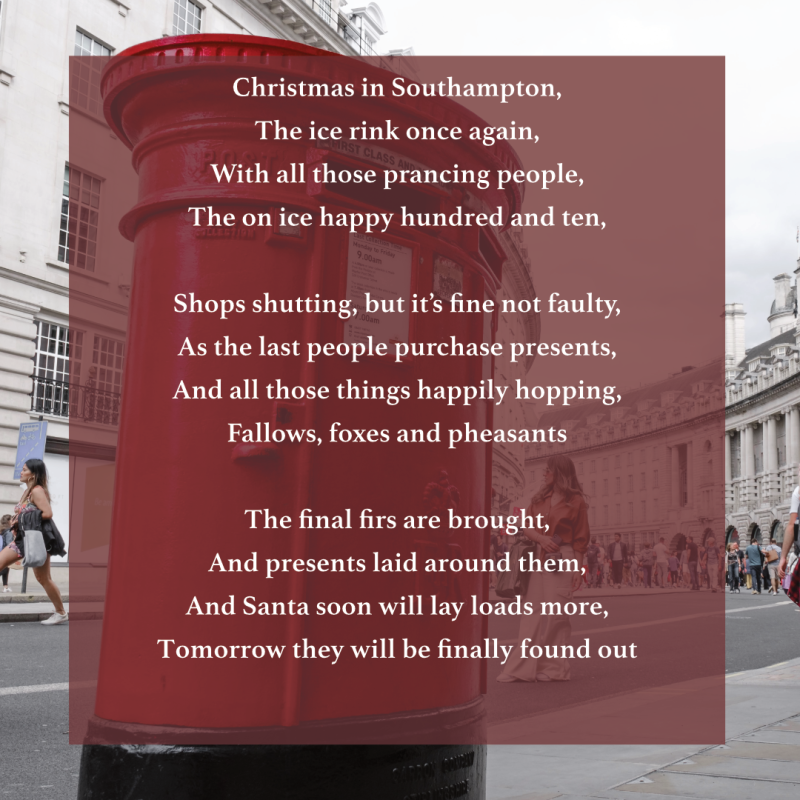 An inpiring Southampton by Ruhaan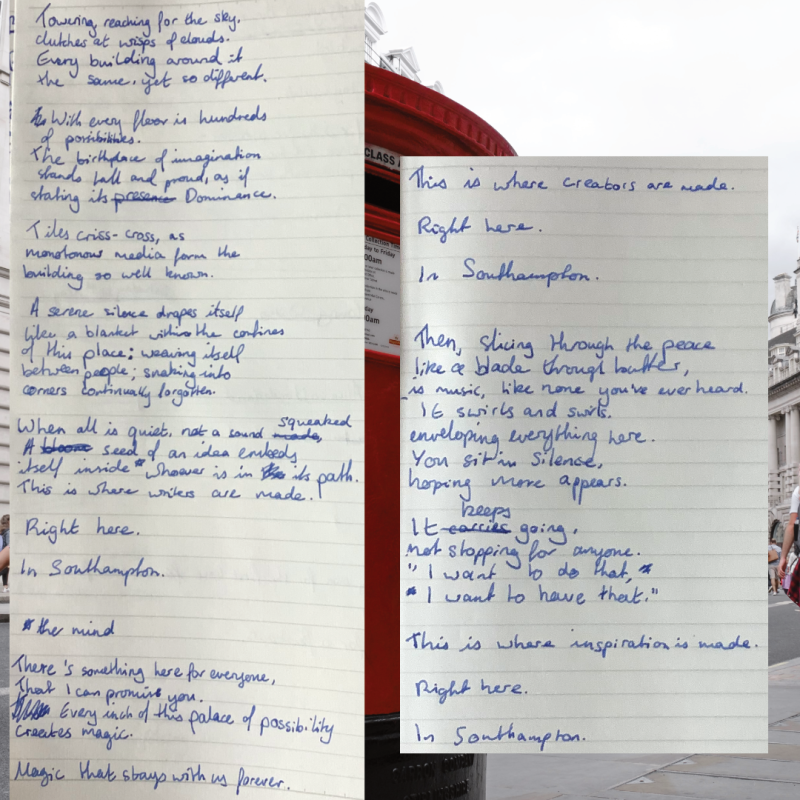 Christmas Market by Eleanor