Junior Writers Number - 8
Young Writers Number - 10

When do you write lists? Maybe when you go out shopping, when you're planning a party, when you're coming up with book title ideas. I've got a list for the register of all our writers but the list I'm most excited about at the moment is my list for Santa.
Whatever you might use your list for, they can be a great basis for poetry.

In Junior Writers we picked one of these types of list and made a poem of it by adding adjectives, emotion, alliteration and all that good stuff to each line.

Further to this we added two more list poems, a list of where, when, how, what 'I Read' followed by a mish-mash of collectables. A large number of us collect stones, so if anyone has any interesting stone facts they want to share this is the group to do it in. There were also the traditional trading cards of a whole variety (Pokemon, Disney, Lego), coins, books and stamps also made an appearance.
In this anti-pea group, I will now provide a list of the words we learned.
Eloquent: well spoken
Succotash: A vegetable dish
Sapid: having a strong, pleasant taste
Periwinkle: A flower and shade of blue
With the Young Writers, we also set about listing things. Not to spoil the amazing TED talk by Sarah Kay - If I should have a daughter, which we watched and I highly encouraged you to watch to - but for the sake of this blog I will distill down to the main point we focused on. List 10 things you know to be true.
In her final spoken word poem - a type of poetry we will look further into after the half term break - Sarah Kay made an emotional impact on us, connecting history to her life. Something that we might think on over the half term is how historical events have repercussions on our own lives and how we can weave these into words and create our own impacts.
We rounded out the session by writing a poem entitled My Heart…. Kim Addonizio wrote about Mississippi, placing her heart there with specifics. Christina Rossetti and Helen Woods inspired by Rossetti's poem A Birthday wrote lists of what the heart is or is like. We had the choice which we wanted to style our lists after.
To end now, I'll add to my previous list.
Vair: fur obtained from a variety of red squirrel

Bea's list poems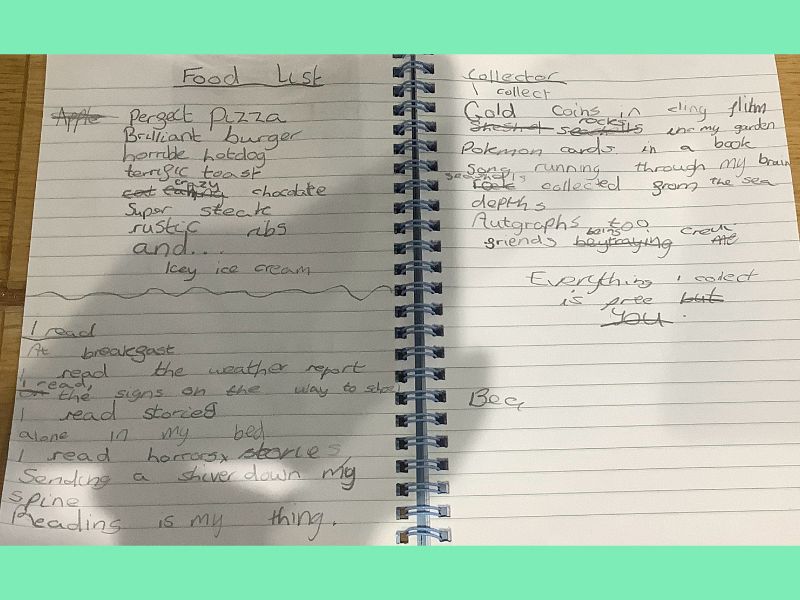 Belle's list poems