A Young Writer-in-Residence… arrives without a plan!
Hello, my name's Dom. For reference, here I am in Edinburgh [see A], chuffed to be pictured on a street in the city centre known as the 'real Diagon Alley' which is meant to have inspired JK Rowling when she was writing Harry Potter.
I'm starting this blog with young creative writers in mind, especially those attending a weekly term-time group run by ArtfulScribe, like I did just three years ago. Since then, I've graduated from Central School of Speech and Drama. The first half of my degree I did in London, and the second virtually during the coronavirus pandemic. In both contexts, I got to see my writing read and performed, to the point of having a radio script of mine [see B] produced with a professional cast of actors.
I wrote that script earlier this year in connection with The National Archives, as part of my "writing-residency" with them. A residency, should you not know (and I didn't before mine), is a placement you undertake as an artist or writer with an organisation. Today, I find myself at it again.
If you're local to Southampton, you'll have gone past that striking pair of buildings opposite Guildhall. I'm sat inside the one on the left - branded today as Mayflower Studios [see C] – as it wakes up after a year and a half of lockdowns. Echoing up through its open-plan stomach comes the sound of clingfilm wrap being peeled away in fell swoops. I know it's likely to be from apple-juice cartons in the bar downstairs, but it's more fun to imagine I'm hearing the protective bubble-seal coming off the walls and ceilings.
I nicked the formula for this post's title from Dinos Aristidou who, while as Writer-in-Residence at Mayflower Theatre, always began the titles of his blog posts with "A Writer-in-Residence…", followed by what he was up to ('…has a sandwich'; '…rides a bus'; '…falls in love' – whatever it was that day). This blog exists, as Dinos's did for him, to document a residency. In my case, that's being here at Mayflower Studios one day a week as Young Writer-in-Residence. As time goes on, I'll meet the people that work here and the work they do, watch shows in the onsite studios, and produce new creative writing inspired by all of it. It feels a bit too good to be true. Truth be told, I keep looking over my shoulder waiting for somebody to ask if I won't at least make myself useful and give the floors a mop. But apparently not.
What I am doing, mind, is chipping in with work for ArtfulScribe, both administrative and facilitative. If you join the 15-18-year-old writing group "Crow's Nest", you'll see how lanky and tall I am when we meet in real life.
In the meantime, my mission is to become acquainted with the building, which is typically proving a one-sided conversation, as buildings don't famously talk. Or do they? On - off – on - off. By the table I'm at, there's this one lightbulb which keeps flickering – winking. There might only be the window of time it takes for the caretaker to come upstairs and twiddle with it inside which to do a thorough enough google search on "morse code for dummies". In the unprecedented event of communication, I'll put out an update. (Don't hold your breath.)
What is to be expected from the coming posts is selective reflection upon the writing I'll be doing. I stress 'selective' because it's easy to talk and talk about writing without getting it done. Over the summer, I've been encouraged to undertake daily writing in this anonymous black leather book [see D].
What comes out when writing on command can naturally be a load of nonsense, but I've been made to believe it's about practising putting one sentence after another, over expecting genius. Try the same – writing every day - if you like, but before anything else what tends to be stressed, sensibly, is a decent reading habit. They say never trust a skinny cook; never trust a writer without a book in their bag.
The outcome of my residency, as it stands on day-one, is a blank canvas, although there's talk of drawing together the resources and talents available in the many departments of Mayflower Studios in order to fill that canvas, which has my ears pricking up.
The result of my previous residency I mentioned earlier was a historical radio-drama set in a Victorian workhouse, found today at domgreen.co.uk … I wonder now, as this building – Mayflower Studios - stretches its limbs and cricks its neck, what can be done once it fully wakes up.
A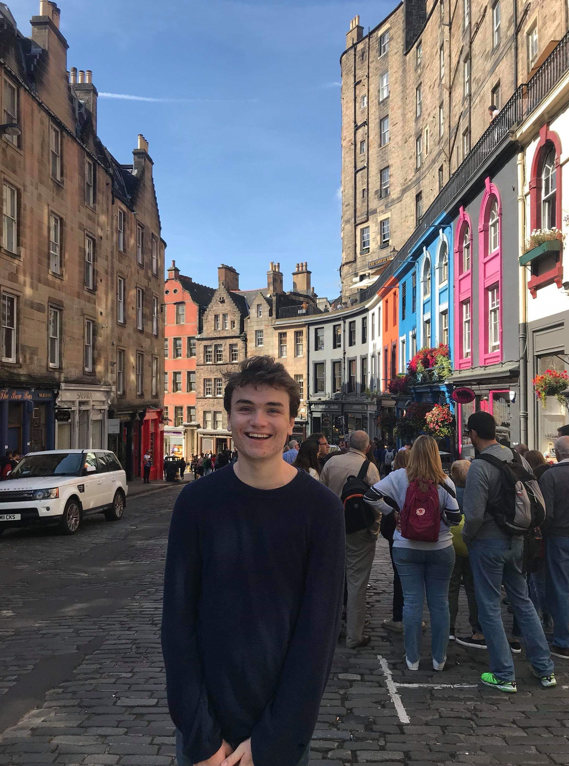 B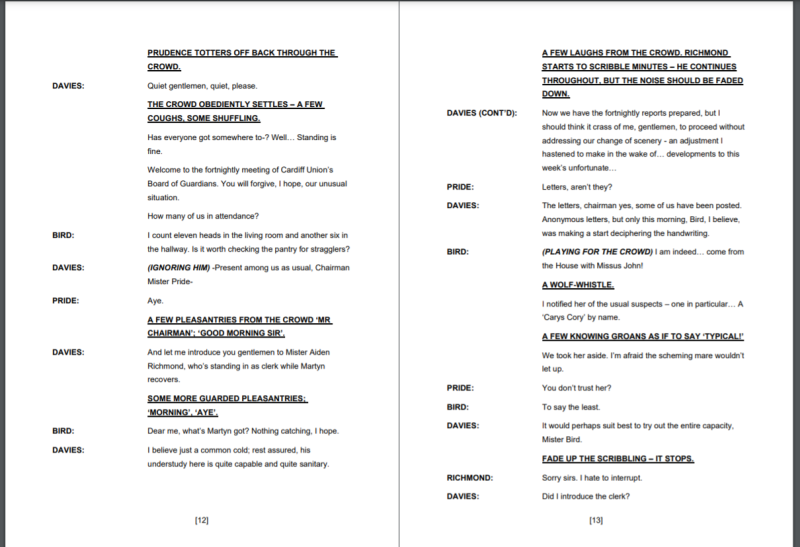 C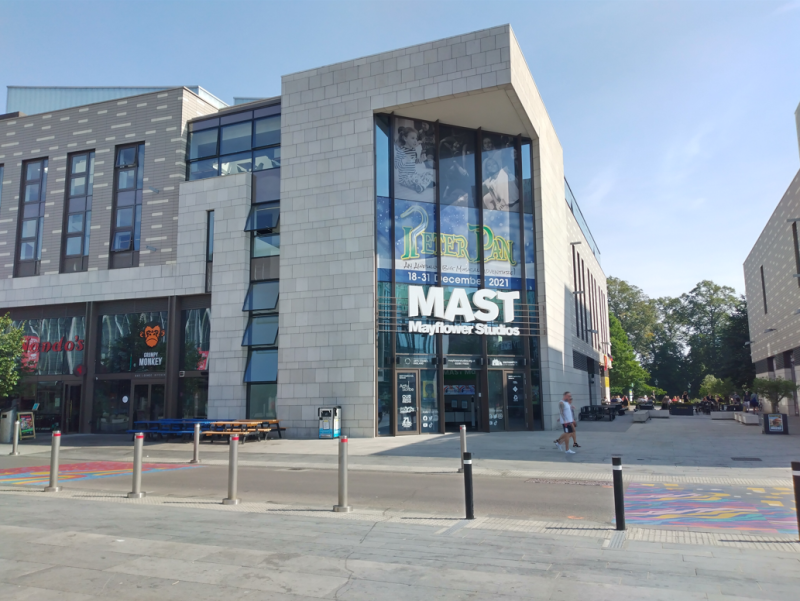 D